Product Discontinuation of RM2200D
After an 8-year production period, the RM2200D mixing console, introduced in 2003, had been discontinued in December 2010.

The discontinuation concerns all devices (article numbers) starting with RM220-.

Further delivery is only possible if the modules are in stock or can be remanufactured. Please note that remanufacturing is neither provided for every type of module nor on short notice.

Please contact your DHD distributor or, if applicable, check the DHD.audio web shop for available modules, available spare parts and current stock status.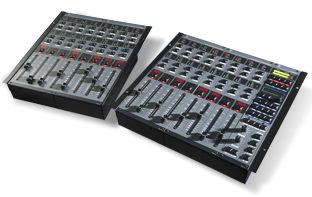 Frequently Asked Questions
In the following you can find general information on the environmental conditions for an RM2200D. If the standard is not met, DHD cannot ensure the proper functionality of the device.
Operating temperature:
+5 … +35 ° Celsius
Relative air humidity:
20 … 85 %, not condensing
As for the mounting in a 19″ rack, you need to leave at least one height unit (44 mm) of space above and below the DSP frame to allow air circulation for cooling of the device. If there are more heat-emitting devices mounted in the rack and/or the DSP frame is equipped with many cards, you will need to leave accordingly more space for ventilation. Do not cover the perforated metal plates at bottom and top of the case. Also avoid operating devices which lose a lot of heat in direct vicinity of the DSP frame.
Manuals
<!–
–>
  Bedienungsanleitung V3.x (DE)
10/11/2005,09:58 10.47 Mb

Documentation V3.x (EN)

10/11/2005,09:40 12.34 Mb

Documentation for the RM2200D Version 3.x as PDF file to read offline.
Kurzanleitung Firmware V3.x (DE) 18/04/2007,12:31 453.04 Kb

Quickguide Firmware V3.x (EN)

18/04/2007,12:28 447.12 Kb

Short instructions how to upgrade your systems firmware to Version 3.x and how to logon as user. PDF file to read offline.
Bedienungsanleitung V2.x (DE)
10/11/2005,09:58 10.47 Mb Documentation V2.x (EN)
10/11/2005,09:40 12.34 Mb
Documentation for the RM2200D Version 2.x as PDF file to read offline.
RM2200D Overview
04/06/2004,12:29 4.43 Mb
Basic overview of the RM2200D.
<!—->
Software
RM2200D Setup
27/01/2010,13:09 3.53 Mb

Installer with all necessary software to run a RM2200D.
It includes the RM2200D Configuration Software, the Firmware and a default configuration file.

Please read the following quickguide, before updating the firmware of your device!
Quickguide Firmware_V3.x 18/04/2007,12:28 447.12 Kb
RM2200D Firmware V03-01-06
27/01/2010,13:40 228.27 Kb

Current firmware update for the RM2200D.

Please Note:

If your system runs stable, no firmware update is needed!

Configuration example
11/04/2007,13:35 1.31 Kb
A default configuration file, used for setting up Consoles. Please note, that this file must NOT fit your individual hardware setup!

Installation Drawings

Following, you can find drawings of the frames and modules of the RM2200D Mixing Console. The drawings are packed in a ZIP file.
Please notice, that the following ZIP file is not updated regularly. Hence, it must not include all currently available frames and modules.
<!–You can find all drawings in the RM2200D List of Modules (online version), where you can download them separate by the different frames and modules. Furthermore, it is possible to download single drawings of the installation frames in the following.–>