Views App
The 52-8511 Views App displays TFT views of the mixing console on a common PC. It provides an exact presentation and provides control of the mixer.
This enables you to e.g. display complete mixer control views on the studio PC screens. You can also create specialised views for information purposes in the studio and display those on an extra-large screen.
If your PC monitor is a touchscreen, this feature is supported by the Views App.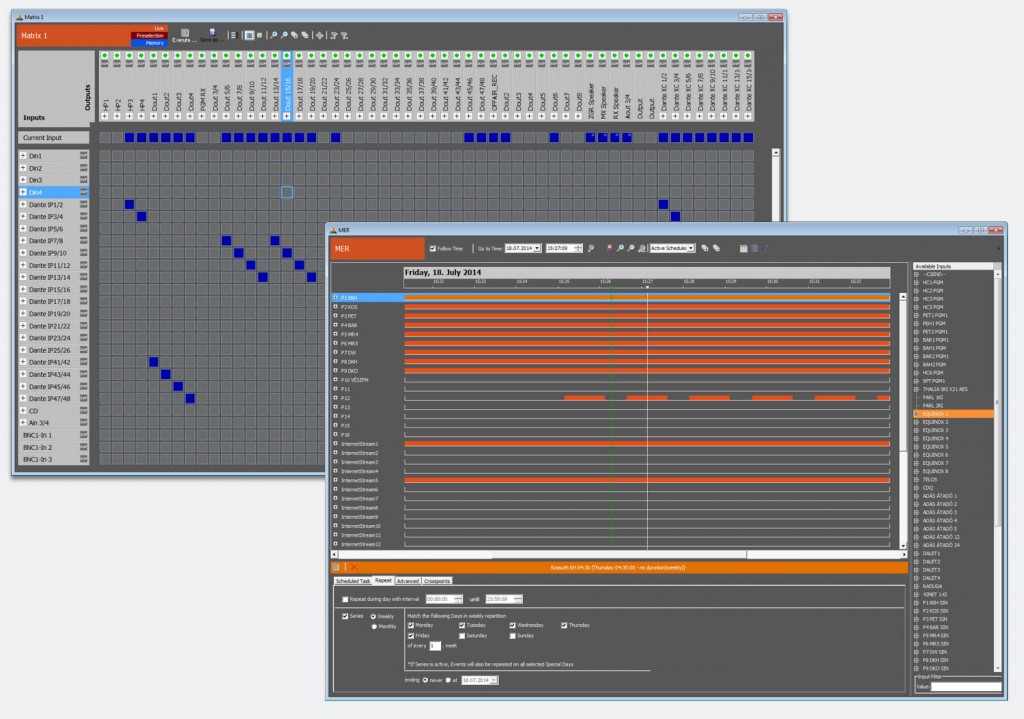 Software for routing, scheduling and monitoring
These PC software products allow structured routing of audio signals in DHD systems. For this, you can set crosspoints in a matrix view or in a list view.
Depending on the kind of licence you have, submatrices and timed automatic routing (scheduling) are supported. Employ the integrated user administration to assign individual access rights for every user.
All Series 52 mixing consoles and routers are supported.
The monitoring software represents selected signal sources as so-called monitoring buttons on the desktop. From these, the editor can select a source in order to route it to their workplace for recording or monitoring.
These monitoring buttons can be adjusted according to the required application. You can change number, size, colour and signal to be routed.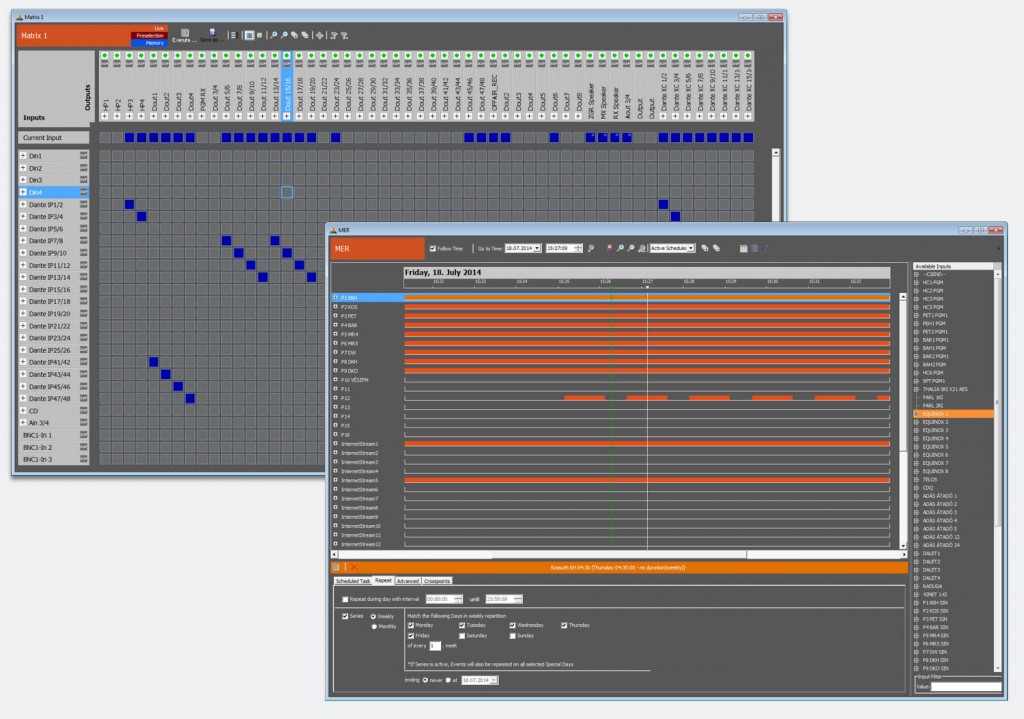 Remote-control software
The 52-8563 Remote Control Software offers you many functions to control from your PC. Among others, you can monitor and remote-control a DHD mixer or represent an info panel with elements from the DHD system on a large screen in the studio.
As with every DHD product, you can define exactly which elements are represented. On-Air status, incoming calls, level meters or a studio clock are just a few of the options.
You can use a software assistant for support when generating individual views. Apart from DHD mixing console elements, you can also integrate pictures for graphic backdrops.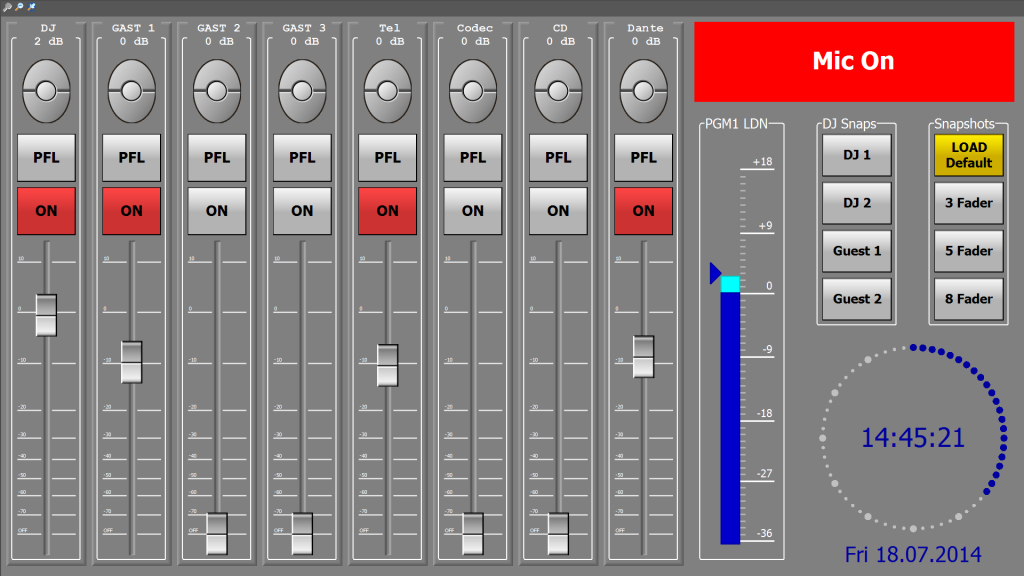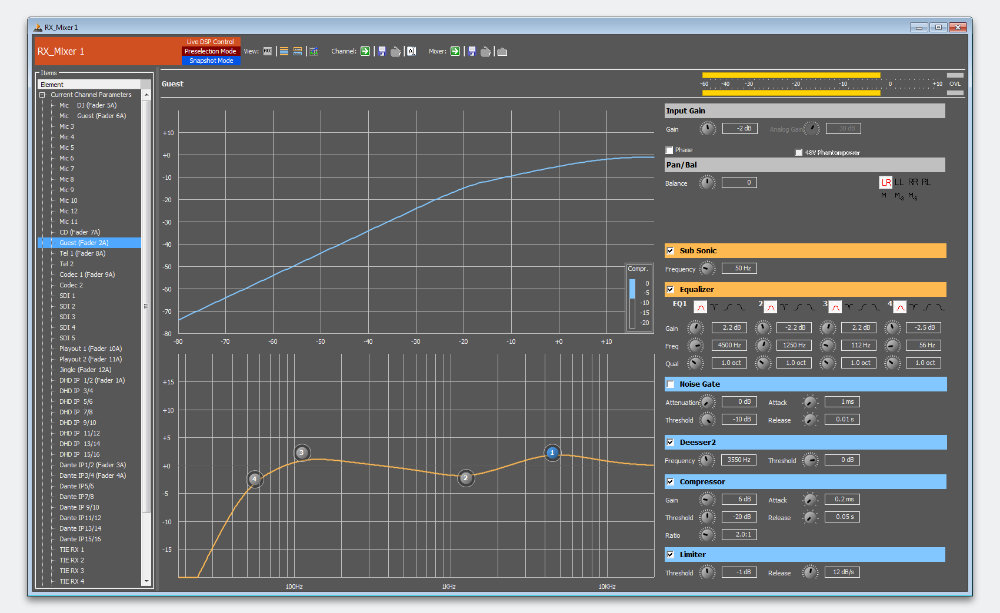 DSP Control Software
With the DSP Control Software, you have direct access from a PC to the signal processing in the fader channels as well as to the processing in the routing matrix – even while the system is running!
This Software provides live monitoring and control of input channel levels and process parameters. It is the tool for changing the values of all configured equalizers, compressors, limiters and de-essers.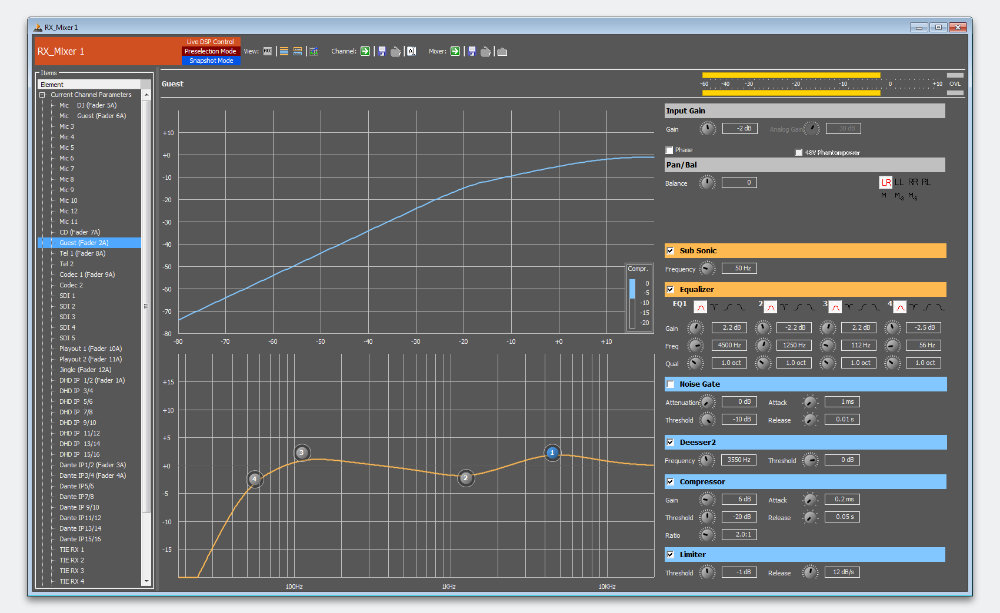 Snapshot Manager Software
The 52-8562 Snapshot Manager enables you to transmit mixer snapshots and channel snapshots from DHD devices to a PC via the network, and vice versa.
This allows the centralised storage of shapshots and the usage of one defined snapshot on different mixing consoles within the same project. Access to the snapshots, which are stored on the server, is realised directly from the mixing console. A PC is not necessary for access.
For generating backups of the mixer snapshots and channel snapshots, the administrator can use the Snapshot Manager functions without requirement of the corresponding licence. The licence will be required in the case that additional users are to commonly use or administer the snapshots.