Leipzig, Germany – DHD Audio GmbH reports an accelerating transition to IP technology throughout the broadcast audio business sector during 2020. Highlight projects included participation with Thum + Mahr in the integration of a DHD Audio platform into the new Cardiff headquarters of BBC Cymru Wales. The new system is being used across the entire radio division. IP-based operation was chosen on the basis of efficient and sustainable resource management. The DHD environment comprises four independent audio clusters, serving as an adaptable infrastructure. Every area of the studio is able to broadcast autonomously.
Radio Cottbus relocated to new fully digital studios in August 2020 after 18 years at its former site. It is now one of Germany's most modern media centres. The main control console is equipped with three DHD SX2 fader modules. All audio signals are transmitted via Dante Audio over IP.
French language public broadcaster RTBF officially opened new studios on January 21st at its regional centre in Mons. The new radio infrastructure is based on a DHD XC2 platform. Four 52/MX consoles with separate XC2 cores are served by a single backbone. An additional XC2 core supports the master control room. Dante AoIP connects the production and editing suites. AES67/Ravenna IP audio connects the Mons radio studios with the RTBF broadcast centre in Brussels. DHD distributor Amptec managed the installation and basic configuration of the DHD 52/MX system.
VRT regional channel Radio 2 Antwerpen inaugurated new studios based on a modular structure within a 350 square metre open office environment. A DHD 52/XC2 core powers the main on-air studio. There are two DHD 52/MX mixer frames at the presenter position and one mixer for the news host or program sidekick. The on-air studio and the two production units are housed in Flexboxes designed by office furniture manufacturer Ahrend. A DHD 52/XC2 core powers the main on-air studio. Two DHD 52/MX mixer frames are located at the presenter position, plus an additional mixer for the news host or a second presenter who previously worked in separate studios. DHD's internal automatic mic mixing capability can also be used for studio guests. Three studios are connected via the DHD 52/XC2 core in the technical area.
Studio Hamburg MCI chose DHD mixing consoles for Germany public radio station NDR Kultur. The station's two broadcast control rooms and three production control rooms have been equipped with Dante AoIP consoles in the 52/MX series. Additional workstations are now using DHD-52/TX multi-touch mixing consoles connected to a DHD 52/XD2 core routing matrix.
Coinciding with what would have been IBC 2020 in Amsterdam, DHD announced a firmware update across its range of broadcast audio mixing consoles, routers and control interfaces. The DHD product range includes five audio consoles (MX Modular Mixer, TX Touch Mixer and DX Desktop Mixer, RX2 Versatile Mixer and SX2 Compact Mixer). These can be combined with compact, standard and high-capacity cores plus a wide variety of interface modules. DHD also offers a complete production system designed for podcasters requiring professional equipment. New functions have been integrated to make operation easier, faster and more flexible. Also introduced in September were flat table-mount versions of the RX2 and SX2 mixers
"The latest firmware additions expand the capabilities of version 9.1 which we announced in Q1," comments DHD's International Sales Manager, Christoph Gottert. "That update included support for Unicode character sets such as Chinese, Russian, Japanese and Korean, Snapshots app and Labels app, enhanced log-in, hot configuration and refinements to the DHD REST API. We have now introduced two additional web apps – the Assist app and System app – plus an advanced SNMP interface."
"In December we commenced online training sessions which proved very successful with 340 people from all over the world participating. A Basic Toolbox session was held in German, followed by another in English, plus an Advanced Training session. All the sessions concentrated on the newest features. We are well equipped with stock and able to offer immediate shipping of almost all our products.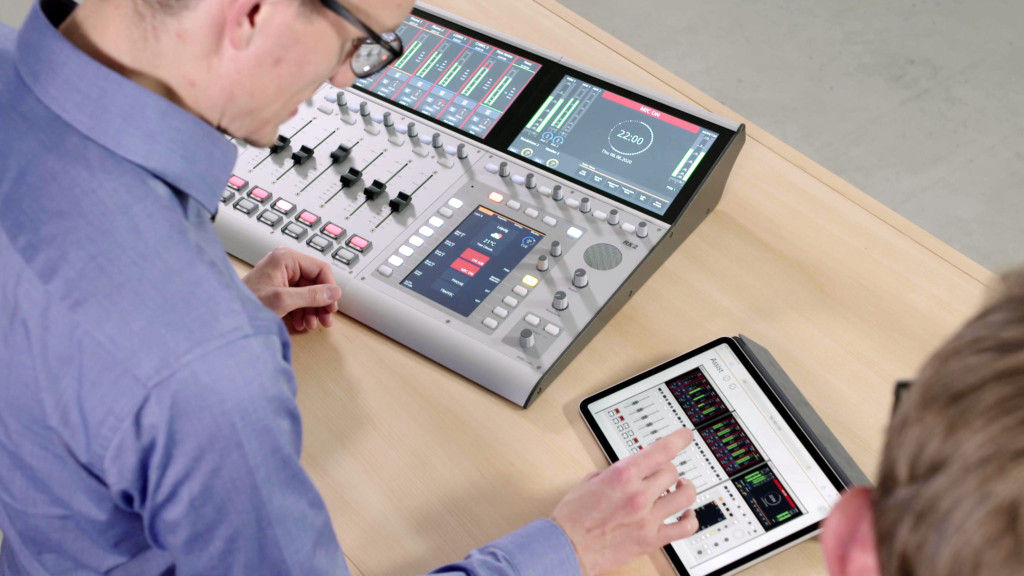 About DHD
DHD Audio GmbH develops and produces digital audio studio equipment and systems for professional applications in broadcast control rooms, DJ-operated radio studios, OB trucks, SNG vans, ingest stations and edit suites. DHD also produces routing and talkback matrices, audio-over-IP interfaces and supporting software. DHD devices can be operated directly or under IP networked control. Designed and manufactured in Germany, DHD products are used successfully by broadcasters around the globe.
Contacts for further information
Christoph Gottert
Tel: +49 341 589 7020
Email: sales@dhd-audio.com
David Kirk, Stylus Media Communications
Tel: +44 (0)1342 311 983
Email: stylusmedia@gmail.com
DHD Audio GmbH, Haferkornstrasse 5, 04129 Leipzig, Germany
Tel: +49  341 589 7020
Email: sales@dhd-audio.de
Web: www.dhd-audio.com
Facebook: www.facebook.com/dhdaudio
Youtube: www.youtube.com/c/dhdaudio
Accompanying image shows the recently introduced DHD Assist app running alongside an RX2 audio mixer.