– September 14, 2018 –
for immediate use
IBC 2018 in Amsterdam: DHD is very proud to launch two new members of the DHD Series 52 mixing desk family – RX2 and SX2. The new all-IP mixing desks are designed for modern broadcast requirements. Their elegant table-top design and the highly flexible touch-screen user interface make them the perfect companion for radio DJs, presenters or broadcast engineers.
The production starts at the end of 2018.
RX2 – The versatile console
Developed for the highest demands in radio and TV broadcast environments, the RX2 is perfect for modern workflows in on-air studios, main control rooms and OB vans. A large 10.1″ touch display for each console section provides all options to configure a customised mixer layout with exactly those buttons, meters and settings you need. This makes daily on-air production quick and easy. This versatile console series ranges from compact sizes of 6 or 12 faders for smaller production units to big control-room consoles with up to 60 faders.


The price-optimised console is ideal for on-air studios, audio workstations and smaller OB vans. Console sizes range from 4 to 16 motor faders, combining a central module with one or two fader modules. All units are separate table-top devices and can be arranged in split layout or chained into a single mixing desk. Thanks to the integrated audio I/Os (for mic, headphones, loudspeakers) in the central module, rack space and cabling work can be reduced. The SX2 will be available as practical bundle with all necessary parts and a ready-to-start system configuration.

About DHD:
DHD audio GmbH is developer and manufacturer of digital audio studio technology for professional applications in radio and TV broadcasting. Our company and our products made in Germany have gained recognition with numerous satisfied customers in public and commercial broadcasters around the globe.
Info: www.dhd-audio.com
Download this Press Release as PDF: 2018_Press_Release_IBC
Download picture of RX2 mixing desk – 24 faders – chained (5.000px × 1.585px)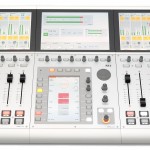 Download picture of SX2 mixing desk – 16 faders – seperate modules (5.000px × 3.335px)