Newly integrated DHD studio mixers and controllers provide enhanced efficiency and flexibility
Leipzig, Germany, April 4th, 2022 – DHD SX2 audio production mixers and TX touch-screen controllers have been chosen by two of Israel's leading radio channels: Echo 99 FM and 103 FM.
The project coincided with the relocation of the production facilities from Herzliya and Givatayim to combined headquarters in Ramat Hasharon. It was supervised by Jerusalem-based broadcast audio systems integration specialist Broadcast Design.
"Four studios in total have been equipped with SX2 consoles," says Christoph Gottert, DHD's International Sales Manager. "Each studio is linked with the MCR via Dante audio-over-IP. Three TX touch-screen controllers have also been provided. The challenge was to ensure both channels remained fully on-air throughout the move, which Micha Blum and his colleagues achieved very successfully."
"The high flexibility and modular concept of DHD products was a key factor for this project," adds Micha Blum, Broadcast Design's founder and CEO. "They allow customers to add or reconfigure elements such inputs and outputs while the studio is on air, without interrupting the programmes.
"Previously housing a telco company, the new headquarters have been fully renovated with 103 FM situated on the first floor and Echo 99 FM on the floor above. Master control room and supporting technical resources are shared. Two of the new 16-fader SX2 consoles and two TX controllers have been integrated into 103 FM. A new 16-fader SX2 is also being used by Echo 99 FM along with a 12-fader SX console plus a TX controller.
"DHD TX controllers allow producers to access talkback to the main studio, host or co-host individual guests, select telco lines and control telco hybrids. They also simplify the process of monitoring callers, monitoring the show itself, selecting audio sources and timers, and receiving alerts.
"All routing is done via DHD software which allows crosspoints to be set in a matrix view or a list view. A DHD Assist web app enables a technician to control the SX2 mixers and TX touch panels from a tablet or PC, supporting presenters without being on site. The technician can access and adjust faders, central modules and any of the mixer menus.
"We also integrated BroadcastThings Connect which allows logic from the DHD mixers to communicate with external devices such as codecs and hybrids, and to email alerts if events like audio silence are detected. The relocation is now complete and fully functioning."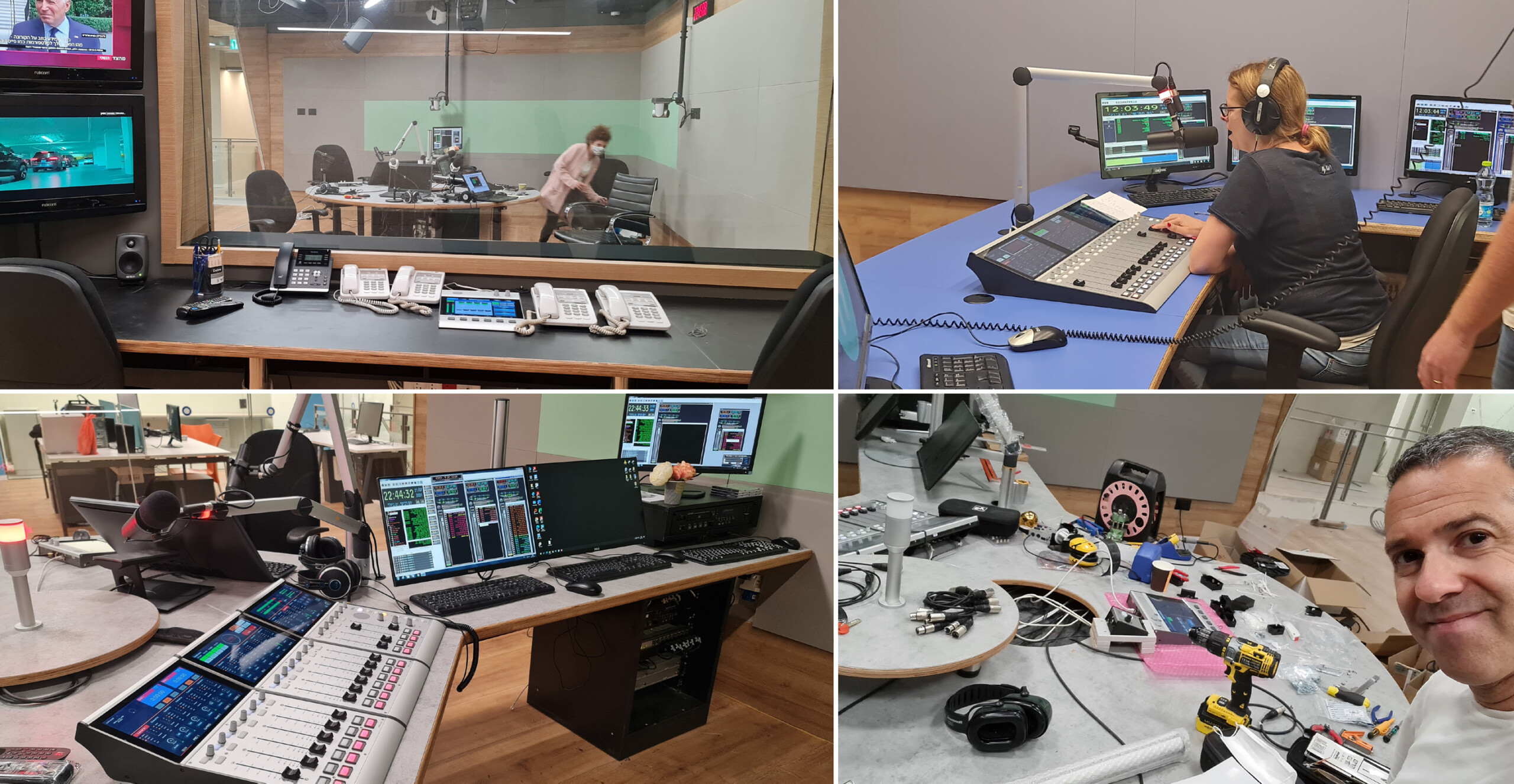 DHD's SX2 is a modular mixing console based on a central module with four faders plus a control section including monitoring and talkback. A fader module with six motorised faders is also included. The central control module gives access to the most important audio inputs and outputs. A microphone input and a headphone output are accessible and loudspeakers can be connected. The fader module allows the addition of a second layer accommodating up to 16 channels. Central and fader modules each incorporate a 10.1 inch multi-touch display showing relevant configuration and operating parameters. Each SX2 unit is a standalone table-top device which can be chained with others to create a single mixing desk. SX2 features can be extended simply by adding optional license codes to the DSP core. This allows extra faders, buses and clean-feeds. Function such as loudness metering, profanity delay and talkback to other DHD mixers are also supported.
DHD's Series 52 TX audio mixing controller is designed for daily operation in news desks, edit suites and satellite link vehicles. Measuring just 256 mm wide x 58 mm high and 272 mm front-to-back, it has a 10.1 inch IPS LCD monitor with capacitive touch-screen faders plus six hardware pushbuttons and two assignable potentiometers. Other features include an XLR microphone input, an XLR/6.3 mm jack combination headphone output, an integrated talkback microphone and a loudspeaker. The TX connects to the network via a single RJ45 port and can be configured to operate as a communications controller with a full individual talkback system for the producer, or a control and monitoring panel for the host.
103 FM (103fm.maariv.co.il) was one of the first regional radio stations to be established in Israel. It has been accompanying listeners since 1995. The 103 FM broadcast schedule includes current affairs, counseling on various topics, plus satire and general entertainment. 103 FM broadcasts terrestrially and online. It is credited with more than 10 per cent national listening and about 20 per cent in its concession area.
Echo 99 FM (eco99fm.maariv.co.il) began operating before 2000 and gained its current name in 2007. The station is firmly focused on music, transmitted via terrestrial FM and online.
About Broadcast Design Ltd
Founded in 1996 by Micha Blum, Broadcast Design Ltd (www.broadcastdesign.co.il) specialises in the design, engineering and construction of broadcast audio systems. Since its inception, Broadcast Design has established over 150 studios for its clients including the Israel Broadcasting Authority (Kol Israel), Galey Tzahal, the Israeli Broadcasting Corporation, The Knesset (Parliament), Channel 2 News, local radio stations, Keshet Broadcasting, Noga Communications, Channel 10 local and regional radio station, the Ministry of Defence, the IDF, the Israel Police, Bezeq municipalities, community centres and regional councils.
About DHD
DHD (www.dhd-audio.com) develops and produces digital audio studio equipment and systems for professional applications in broadcast control rooms, DJ-operated radio studios, OB trucks, SNG vans, ingest stations and edit suites. DHD also produces routing and talkback matrices, audio-over-IP interfaces and supporting software. DHD devices can be operated directly or under IP networked control. Designed and manufactured in Germany, DHD products are used successfully by broadcasters around the globe.
Contacts for further information
David Kirk, Stylus Media Communications
Tel: +44 (0)1342 311 983
Email: stylusmedia@gmail.com
Broadcast Design Ltd
Tel: +972-2-6560201
Email: info@broadcastdesign.co.il
Christoph Gottert, DHD audio GmbH
Tel: +49 341 589 7020
Email: sales@dhd-audio.com
DHD Audio GmbH, Haferkornstrasse 5, 04129 Leipzig, Germany
Tel: +49 341 589 7020
Email: sales@dhd-audio.de
Web: www.dhd-audio.com
Facebook: www.facebook.com/dhdaudio
Youtube: www.youtube.com/c/dhdaudio
Twitter: @DHDaudio