Leipzig, Germany, May 16th, 2022: Following a successful mid-May MPTS 2022 show in London, DHD will exhibit the latest additions to its range of digital audio studio equipment and systems at the Hamburg Open 2022. The show will be held Wednesday June 1st (10:00 – 18.00) through Thursday 2nd (10.00 – 16:00) in Hall B6 of the Hamburg Messe. Exhibiting on stand 103, DHD will demonstrate its new DX2 desktop audio mixing console, XC3 and XD3 processing cores and Version 10 latest-generation firmware.
"Hamburg Open has grown over the years into one of the most popular events in the European broadcast and professional-audio show calendar," says Christoph Gottert, DHD's Head of International Sales. "We will be offering visitors the opportunity to experience the creative and ergonomic features of DHD mixing systems which are designed for fast and easy live operation."
NEW: DX2 desktop audio mixing console
DHD's new DX2 is a fully featured desktop audio mixing console designed for use wherever space is at a premium, such as newsroom desks, podcast studios, voiceover suites and video editing booths. It provides the same assistive mixing functions as other DHD consoles, including motorised faders, auto-mix and auto level gain. Like all our mixing consoles, the DX2 integrates easily with DHD processing cores to form a complete system. Fully compatible with all current DHD cores running version 10 firmware, it comes as a four-fader console with an optional six-fader expansion unit. A 3.5 mm output jack at the rear of the console doubles as an input which can be used to connect a smartphone for live telephone interviews.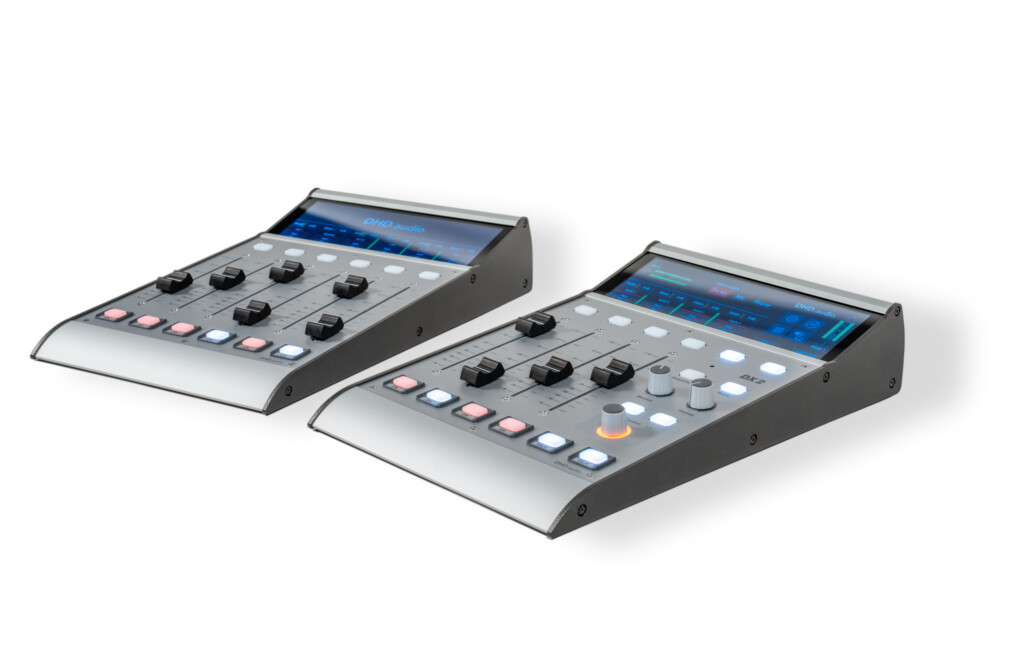 NEW: XC3 and XD3 IP cores
Also on show at the Hamburg Open will be the latest additions to DHD's range of audio production processing cores. These integrate elements such as control surfaces, routing and external-device interfacing into a stand-alone or distributed system. The new XC3-core and XD3-core provide full support for intra-site as well as multi-site IP-based device control and audio-over-IP signal distribution. Automated workflows and product virtualisation are fully supported.
The DHD XC3 IP core is designed for use in on-air studios. It comprises two dual-core DSP modules which combine into a compact 1U. These jointly support up to 48 stereo faders, 72 stereo busses and 16 channels of AES67 IP audio. IPx expansion modules can be added to accommodate 128 channels of AES67/Ravenna IP audio in/out and up to 512 Dante channels. A companion module, the new XC3 Concentrator, allows easy interconnection of multiple DHD IPx modules, control surfaces and I/O modules.
DHD's new XD3 is a high-performance IP core for use with large mixing and routing systems. It includes support for demanding networked operations such as DHD web apps. The XD3 IP core allows fully redundant configuration and can accommodate an optional router. Up to 96 stereo faders, 126 stereo busses and 24 Gigabit Ethernet audio ports are supported by the XD3 router and IP core combination.
NEW: Version 10 firmware
DHD will also be promoting the increased versatility of its latest-generation Version 10 firmware.  These include enhanced security and management capabilities, unified user management based on web apps, expanded fader and bus handling, and refinements to the DHD Toolbox configuration software. Security and management feature additions range from a powerful new onboarding sequence for initial setup plus EBU security measures for media nodes.
Firmware Version 10 enables the new IP cores to handle Secure Sockets Layer certificates which protect the browser connection in elements such as web apps and API calls. Flexible Service Filters allow users to define which service or API is available on each Ethernet port. Firmware Version 10 also provides out-of-band control for DHD AES67 Ravenna audio-over-IP interfaces. Enhanced management capabilities allow users to be added during live operation without reconfiguration. An additional feature is automatic dark mode for DHD web apps.
Also on show
A modular mixing console designed for radio and other broadcast applications, the DHD SX2 audio production console is based on a central module with four faders plus a control section including monitoring and talkback. The SX2 series also includes a fader module with six motorised faders. Central and fader modules each incorporate a 10.1 inch multi-touch display showing relevant configuration and operating parameters.
The DHD RX2 sound mixer is based on control surface modules which can be combined and configured to match a wide range of radio and TV production environments. The design also scales easily from small mixing panels with 6 or 12 faders to large consoles with up to 96 faders. Each module has a dedicated touch display which gives operators the information they need to work quickly and confidently.
About DHD.audio
DHD.audio GmbH (www.dhd-audio.com) develops and produces digital audio studio equipment and systems for professional applications in broadcast control rooms, DJ-operated radio studios, OB trucks, SNG vans, ingest stations and edit suites. DHD also produces routing and talkback matrices, audio-over-IP interfaces and supporting software. DHD devices can be operated directly or under IP networked control. Designed and manufactured in Germany, DHD products are used successfully by broadcasters around the globe.
Contacts for further information
David Kirk, Stylus Media Communications
Tel: +44 (0)1342 311 983
Email: stylusmedia@gmail.com
Christoph Gottert, DHD audio GmbH
Tel: +49 341 589 7020
Email: sales@dhd-audio.com
DHD.audio GmbH, Haferkornstrasse 5, 04129 Leipzig, Germany
Tel: +49 341 589 7020 | Email: sales@dhd-audio.de
Facebook: www.facebook.com/dhdaudio
Twitter: @DHDaudio
Youtube: www.youtube.com/c/dhdaudio
Web: www.dhd-audio.com